Do you have a leather piece of furniture? If yes, do you know the type of leather used for its making? Contrary to popular belief, leather comes in many different types that are not limited only to faux or genuine leather. Knowing the exact material of your sofa, armchair, etc. will help you pick the best cleaning technique for it.
Key types of leather used in furniture making
Before we get to the cleaning bit, we first need to take a look at some of the most popular leather types used in the production of upholstery furniture today:
Full grain – It is genuine and it has preserved its texture and top grain layer because it has not undergone processes such as budding or sanding.
Corrected grain – Genuine leather that has undergone some treatment to remove markings and other imperfections from its surface. In most of the cases, it is single-coloured.
Nubuck – The layer that can be found under corrected grain leather. It has a soft texture and it reminds of velvet.
Faux –Made from artificial, synthetic materials and used as a budget-friendly substitute for genuine leather.
Aniline – It is a genuine one and it has been dyed with soluble dyes that allow for it to preserve its original texture and surface. It is incredibly soft and has different colour variations which is why it tends to be quite pricey.
Semi-aniline – Has a protective coating which makes it more durable compared to aniline leather options. It is easier to maintain and slightly cheaper.
Full grain
To maintain your full grain leather furniture in a good condition, you need to use either saddle soap or special full grain leather cleaner. It is also recommended to apply protective cream each time you clean it to ensure that it can withstand spills and stains. If, however, you happen to spill something on it, you will need to dab it off immediately. Use a soft cloth to do that and let it dry naturally. This type of leather can also be easily damaged by salt. So, if you accidentally spill salt on it, again treat it as soon as possible.
Corrected grain
In case of spills and stains, use the same technique as described above. When it comes to caring and maintaining corrected grain leather furniture pieces, once a week arm yourself either with a vacuum cleaner that has a soft brush attachment or a dry soft cloth.
Nubuck
The best way to clean this material is by vacuuming it. To maintain its soft texture, brush it with a soft nylon brush. Spills need to be immediately dabbed off (not rubbed) with a sponge or even an absorbent cloth. If the stain is more stubborn, you can use a small amount of lukewarm water. To remove greasy and oily stains, take a dry white cloth and simply wipe off the spill. Do not use water. For dry stains caused by dirt, for example, rely on a cleaning pad (a dry one) or a pencil eraser.
Aniline
Since this type of leather does not have a protective coating, you will need to treat it with an aniline protector every 3 months. You can vacuum or dust it with a dry cloth on a regular basis.
Semi-aniline
If you choose to apply a protective cream on your semi-aniline sofa, keep in mind that it may change its colour. Therefore, it is better if you simply vacuum it with a soft brush attachment or dust it with a soft cloth every week. To remove dirt, you can use a slightly damp soft cloth and mild soap. Using too much water may stain the furniture.
Faux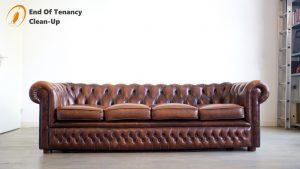 This is where you get to enjoy the most freedom. Again, stains need to be dabbed off immediately and you must never ever apply household cleaning products on it. To dust, you can use a vacuum cleaner or a soft cloth. Every now and then you can rely on baby wipes. A solution of warm water and some mild soap will also do. You do not need to polish it or apply a protector on it but you can if you want to.
If you struggle to determine the type of leather from which your furniture is made, use advanced upholstery cleaning services in London. Professional cleaning technicians will know how to clean and maintain them.