Sofas, armchairs and other upholstery in your home present a significant investment. If you want them to last longer and look nice and clean, even after years of use, cleaning and maintenance are required. It is recommended that you hire a professional upholstery cleaning company in London to clean your delicate upholstery furniture from time to time and remove built-in dirt and allergens, but there are few DIY tricks that can prolong the life of your upholstery sofas and keep it to look as good as new.
Clean upholstery and hairy friends – sure!
If you have pets, then you probably know that even your modern vacuum cleaner cannot pull out all the pet hair from the upholstery. Luckily, there is a cheap and effective way to have hair-free upholstery – use tape to pull out pet hair from your favourite sofa. All you need to do is gently tap the fabric and hair will stick to the tape. And voila! No pet hair on your upholstery.
Brush it up
Before you rush to buy a new sofa and other upholstery furniture because the colour of your current one looks dull, you might want to try out this trick. Sometimes, dust gets trapped inside the fibres, making it look a bit dim. Now, all you should do is take a brush and treat all the surfaces with it. Then, vacuum the upholstery to get rid of brushed dust. Instantly, the colour will look brighter and the fibres will be lifted.
Get rid of bad odour
Baking soda has multiple uses around the household and one of them is that it deodorises treated areas and makes that nasty smell disappear. Here is what you should do:
sprinkle some baking soda all over your sofa
let it sit for an hour
vacuum the upholstery
You will be surprised to learn that bad odour has been neutralised. You can also use this technique to deodorise your carpets, mattresses and other fabrics.
Fluff the cushions from time to time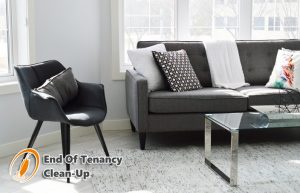 Cushions may start to lose their original shape over time because we lean on them day after day, making them flatten and distorted. In order to prevent wear of your cushions and other removable parts of your upholstery sofas, try to fluff them from time to time. This will prevent the filling from flattening and the fibres will instantly revive. Also, if cushions and seat are two-faced, flip them interchangeably.
Treating greasy stains
The most important rule when it comes to any kinds of stains is to treat them immediately. If you don't, you are risking turning them into permanent spots that will sit there forever. However, removing greasy stains from upholstery can be tricky, right? Well, not if you know this old trick with salt – after you remove the excess oil using kitchen paper, sprinkle salt onto the stain and let it sit for some time. The salt will absorb the grease. After that make sure you vacuum the salt and use a cleaning product to treat the stain.