Let us be honest and admit up front that very few people in the world truly enjoy cleaning their bedroom. With this being said this does not mean that you should neglect your sanitation duties sleep in the dirty room. This is why we have decided to turn your attention towards a helpful tutorial that will permit you to promptly and yet effectively clean your bedroom from top to bottom.
Step 1: Get into the right frame of mind
There is no denial that cleaning can be extremely boring and dull. However, you can make the endeavour more pleasant and even fun by playing some music. Put together a track list with energetic and upbeat songs and play it at maximum volume while you are putting things back in place and sanitising your bedroom.
Step 2: Open the curtains and windows
Boost your energy levels by opening the curtains and windows and allowing natural light and fresh air to enter into the room. This will not only help you get into the right frame of mind but it will also purify the air within your bedroom. Numerous healthcare experts agree that every room should be ventilated for at least five minutes daily.
Step 3: Throw away the garbage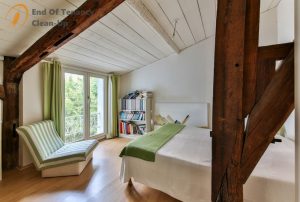 Identify every piece of junk that is sitting throughout your bedroom and pick it up. If the rubbish is too much, grab a basket and use it to gather it. Once you are done, take the waste to your home's main garbage bin can throw it away.
Step 4: Organise the clutter
Grab every misplaced object that you have in your room and put it on your bed. Then sort throughout the objects and decide which should remain in your bedroom and which do not belong in the room. Put everything in its rightful place and you will be amazed how much cleaner and tidier your bedroom will appear.
Step 5: Take care of dirty clothes
Collect all the dirty socks, shirts, pants and other clothing that you have spread throughout the room and put them in the laundry basket. Moreover, if the basket is full, you can load all dirty clothes in the laundry machine and have it wash your things while you are cleaning your bedroom. This way you will take care of two sanitisation chores at the same time.
Step 6: Take the dust and vacuum
Now it is time for some serious cleaning. Grab the duster and wipe all the surfaces within the room:
Bedside tables
Armoires
Bedframe
Door and window frames
Wardrobe doors
The last thing that you should do is to vacuum the floor and voila, you should have a bedroom in pristine condition. If you notice any stains while you are cleaning, contact professional contractors such as End of Tenancy Clean-up as they provide reliable deep cleaning services in London with which you can quickly deal with all types of spots and stains.
As you can see keeping your bedroom clean and tidy is not as hard and demanding as you think if you approach the job with the right mindset and attitude.