End of tenancy cleaning is a very serious chore. One that needs to be addressed with the proper preparation and diligence if you would like to come out of it with triumph. Fortunately, there are several simple rules that you need to follow and you are not going to have problems with achieving what you are after.
Why is it so important?
Basically, an end of tenancy cleaning is a form of property sanitation that is conducted at a house or apartment that has just been vacated. It is important because it can bring several important benefits:
Renters can rest assured that they will receive their deposit back
Homeowners will be able to sell the house they are moving out of easier and at a better price
Landlords will not have a hard time leasing the place to new renters
Those are just three of the major reasons why you should approach your end of tenancy cleaning seriously, regardless of the exact situation you are in.
Check your contract first
If you are moving out of rented premises, you should carefully read the fine print on your tenant's contract. The thing is that many landlords require the apartments and houses they are leasing to be professionally cleaned upon vacating. If you do not follow this rule, you may not see the money from your security deposit. Fortunately, there are many reliable cleaning firms in London that can provide you with a quality service at a good price, so you do not have to worry about finding one.
If you do it on your own
In case, for some reason or another, you decide that you are going to tackle your end of tenancy cleaning on your own you might want to prepare properly in advance so that you have no problem with the job.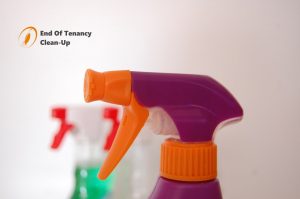 First and foremost, this type of cleaning is best to be carried out once all your possessions are put in boxes, and preferably removed from the premises. This can be a little tricky in terms of logistics, and you should give yourself enough time to do it.
You will also need proper tools – detergents, clothes, a vacuum cleaner, sponges etc. Buying in bulk is the best strategy because you will save money, and not run the risk of being short on certain supplies.
Caption: Cleaning becomes easier if you have the right tools
Make a checklist of all the tasks that you will need to carry out in order to guarantee the successful outcome of your end of tenancy cleaning. Remember that you will need to clean places that you have not tended to frequently (or at least, you are unlikely to have had) such as behind the fridge or the top of the wardrobe for example. You may also have to do some minor repairs, so be prepared for that, or at least have a reliable handyman on speed-dial in case of an emergency.
If you stick to those principles you will notice that the moving out sanitation will go much easier than you have expected.