Some things have more capricious sanitation requirements than others. This is why we have decided to turn your attention towards six home features that you should deep clean systematically.
Kitchen cabinetry
Over time, kitchen cabinets tend to accumulate dust build-ups, which can spoil the food that you keep in them. Sanitation experts recommend that all cabinets should be emptied once every two months and cleaned thoroughly with eco-friendly, non-toxic and non-chemical sanitation products.
Kitchen countertops
The kitchen countertops are even more prone to dust and dirt build-ups as cabinets. This is why they should be cleaned on a weekly basis. Counters also tend to be stained during the preparation of food. The easiest way to deal with such spots is to remove them as soon as they occur. If you have missed that window of opportunity, do not hesitate to contact professional sanitation contractors such as End of Tenancy Clean-up as they provide reliable and fairly priced deep cleaning services in London, and therefore can easily take care of even the most resilient and hard-to-remove stains.
Wooden floors require extra attention
Wood floors
Wooden floors are beautiful and give a sophisticated ambiance to any room. However, they are also very demanding in terms of maintenance. Aside of being stained and accumulating dirt and dust, they also tend to be harmed quite easily. This means that sanitising them regularly won't be enough. Experts deep clean wooden floors in order to remove all the harmful particles from their cracks and holes. Also once a year, you should correct and seal all problematic areas to minimise the build-ups of dust and dirt.
Carpet
Numerous studies show that carpets are a safe haven from harmful elements such as:
Germs
Bacteria
Dirt
Dust
Allergens
Pests
The same researches show that area rugs and carpets are among the dirtiest items in a property. All these findings, lead to the necessity of frequent cleaning. In addition, every three to six months all rugs and carpets within a household should be washed and deep cleaned. This will not only keep them tidy but it will also prolong their lifespan are the fibres won't be amortised.
Clean grout is the key for beautiful tiles
Tiles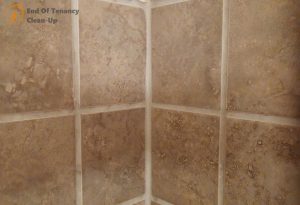 People use tiles to decorate both their floors and walls. In general, slates are made from materials, which are easy to keep clean and tidy. However, the grout between the tiles can be extremely difficult to maintain in proper condition. Aside of periodically (once every two weeks) sanitise the grout, you should also deep clean your tiles at least once a year.
Mattress
Sleeping in a clean and comfortable bed is of primordial importance for your health. Most people wrongly assume that their mattresses are in pristine condition because they are always covered with linens. The truth however is that mattress just like any other household item accumulates dust. The simplest and quickest way to take care of this task is to deep clean your mattresses. Simply use a steam cleaner to remove all harmful particles from your bed.