Stainless steel appliances have an elegant and modern look that brings everything together, and every kitchen has few. However, the only disadvantage of such appliances is that they easily get stained and marked by fingerprints and they require a gentle cleaning approach to avoid damaging their surface. Cleaning stainless steel appliances can be challenging. But, if you use proper cleaning products and strategies, maintaining such pieces of domestic equipment will be easy and quick. Here are a few simple ways to clean stainless steel for a flawless finish.
Dishwashing detergent
Cleaning stainless steel is easy if you mix some dish washing detergent with warm water. Use a glass cloth and clean the appliances in a circular motion. Then, polish the surface in the direction of the grain by using a dry non-abrasive cleaning cloth. Make sure to use a small amount of detergent.
Glass cleaner
Glass cleaner is a perfect stainless-steel cleaner. It is ideal for removing fingerprint stains or watermarks. All you need to do is:
use a microfiber cloth;

spray some cleaner onto it;

clean your stainless-steel appliance in small circles;
Baking soda
If you want to remove grime or marks from stainless steel, you can use a natural cleaner, baking soda. Since baking soda is slightly abrasive, you can also use it for removing dirt from your stainless steel pans and other dishes. It is ideal for the cleaning sinks and polishing out small marks from it. All you need to do is to:
mix water and baking soda;

apply the mixture to a sponge;

clean the surface of the appliance in circular motions;

rinse with water;

use a dry microfiber cloth to wipe the surface;
Olive oil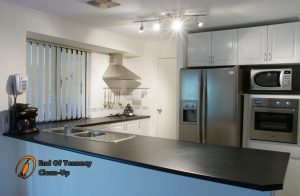 Olive oil is used for the removal of watermarks and small scratches and marks from stainless steel appliances. It might leave a residue that can be easily removed with vinegar. Use a paper towel to apply the olive oil onto the surface. Wipe with the grain. And then, if necessary, use a fibre cloth and vinegar to polish stainless steel surfaces.
Vinegar
If you want to make your stainless steel appliances sparkling clean, you can use vinegar for polishing. Even though it has a strong scent, you don't have to worry about it because it will evaporate very quickly. You can also use it when you are cleaning your sink, and your drain will benefit as well as. Use a microfiber cloth and wipe with the grain of the stainless steel.
Commercial stainless-steel cleaners
If your stainless-steel appliance has staining, scratching and requires a thorough polishing, you can use commercial cleaners designed for stainless steel cleaning. Even though this solution is a bit more expensive in comparison to those mentioned above, they are very effective. Read the instructions before you understand the direction of the grain and start to clean.
In conclusion
Stainless steel appliances are durable but they require regular cleaning. You have to remove dust, dirt and grime to avoid corrosion. All it takes is a bit of an effort and time and one of the proven strategies mentioned above and that's it. But, if you don't have time, you can hire a professional deep cleaning company in London that will give your stainless steel appliances a beautiful, long-lasting shine, and clean your entire house.