Do you struggle to get a good night sleep? Maybe it's not you – maybe it's your pillow. When was the last time to washed your pillows? No, we are not talking about your pillowcase but the pillow itself!
Do you need to clean your pillows?
We all know that mattresses that are not deep-cleaned every year can become living and breeding grounds of many dangerous viruses, microorganisms and bacteria. Similar is the case with pillows. There are many disgusting things that can make a home on or even inside them among which are:
Dust mites
Bedbugs
Fungi
Hundreds of thousands of bacteria colonies
Mould and yeast
Therefore, if you want to stay away from all these terrible health-threats, you'd better wash that pillow of yours.
Rare cases when you can skip the cleaning
Sometimes, however, there is no point in washing a pillow. That is when it is too old or has lost its shape. Just throw it away and buy a new one for the sake of your neck and health.
How often should a pillow be washed?
That depends on the material of the pillow and the way you are using it. For instance, if we are talking about the pillows in your guest room, you do not need to wash them very often. Just cover them to protect them from dust. When it comes to a pillow that is being used on a nightly basis, you should clean it more regularly. Those made from synthetic fibres or feathers need to be sanitised at least every half a year. Foam pillows, on the other hand, is best to be cleaned every month.
Different pillows – different cleaning strategies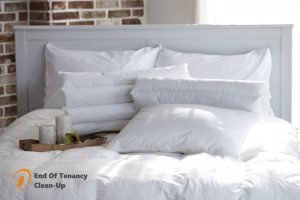 Now that we have established the fact that pillows need to be cleaned, we need to highlight the fact that you cannot use the same cleaning method on every type of pillow you have in your home because that may damage its shape and reduce its lifespan.
If you own synthetic fibre or feather pillows, start by carefully reading their label. There, one can usually find detailed instructions on how to maintain the product, including how to clean it. Unless otherwise specified on the label, normally you can either hand wash or machine wash these two types of pillows. To hand wash it, you will need to mix up to 5 drops of bleach and some non-aggressive liquid soup in warm water and to put the pillow in the water. Leave it there for about half an hour. After that, you will have to rinse for about 20 more minutes. Do that under warm running water. Avoid squeezing the pillow too much because that may damage its structure.
If you prefer to use your washing machine to clean your feather or synthetic fibre pillow, wash it separately at a delicate cycle using warm water only. Next, leave it at a rinse cycle. To dry – you can use a tumble dryer.
Foam pillows must not be exposed to hot temperatures. Also, they are very delicate. Therefore, it is not recommended to clean them in a washing machine or dry them in a tumble dryer. It is best if you simply vacuum clean them and then soak them in lukewarm water mixed with some gentle detergent. Dry this type of pillows naturally. Still, do not leave them under direct sunlight. Turn on a fan to speed up the drying process.
If you fear that you may damage your pillow, find trusted upholstery cleaning services in London. Professional cleaning technicians will know how to thoroughly sanitise it.