Choosing the ideal floor treatment for your living room can be quite challenging as the sheer of amount of different carpet types is simply said, overwhelming. Each style has its own advantages and disadvantages, and if you keep reading, you will learn them. Then you can use your newly acquired knowledge to make the right choice.
Plush carpet
Plush carpets are generally durable as they have compact tufts, which makes them well suited for areas with high levels of foot traffic. The fibres are twisted in yarn, which only adds to the rug's strength. These carpets have a very formal look, as their finish is smooth and pleasant to touch. They are relatively easy to maintain keep but they do demand frequent vacuuming and cleaning.
Textured carpet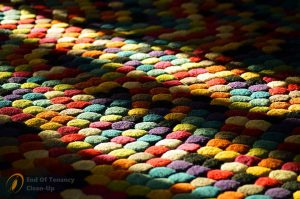 These carpets are made by using low-density fibres of uneven heights. This creates a pattern, which adds a more playful look to the rug. The main disadvantages of textured carpets is that they cannot endure heavy foot traffic and then to accumulate large amounts of dust and dirt between their fibres. This ultimately makes them capricious in terms of sanitation as they must be vacuumed and washed regularly.
Saxony carpet
Saxony rugs are manufactured similarly to plush carpets. The main difference is that they have longer fibres, which creates an even smoother surface. Saxony rugs are currently the most sought after carpets on the market because they instantly add a more sophisticated mood to the room in which they are placed. They are known for their resilience but their main weakness is that they show footprints and other marks. This is why they must be vacuumed periodically.
Frieze carpet
Frieze carpets have long fibres, which have more twist than the above-mentioned types of rugs. This results in a natural texture, which doesn't show any marks or footprints. The downsides of frieze carpets is that they are unfit for areas with heavy foot traffic and require constant cleaning in order to protect the fibres. People who own this type of rug prefer to delegate their maintenance to professional sanitation technicians who provide reliable carpet cleaning services in London such as End of Tenancy Clean-up.
Cable carpet
This type of rug is made with ticker and longer fibres. Cable carpets are renowned for their cosiness and warmth. They are also extremely pleasant to walk on. However, they do demand frequent cleaning in order to prevent the accumulation of harmful particles such as:
Germs
Dirt
Dust
Bacteria
Pests
Berber carpet
Arguably the most durable rugs on the market. Berber carpets are fabricated from short looped fibres, which are packed together. This makes the rugs perfect for areas with high foot traffic and according to some experts, if maintained properly they can last for a lifetime. Berber carpets tend to hide dirt and stains but this doesn't mean that you shouldn't remove spillages as soon as they occur, especially if you opt for a light colour.