Upholstery pieces are beautiful furnishings that are often the focal point of a room. They also get a lot of use, which makes choosing the right fabric of paramount importance because failing to do so, will result into an area, which is furnished with worn and torn furniture. You should know that there are numerous types of upholstery fabric, and our glossary will help you learn their advantages and disadvantages.
Chenille
The name of this fabric originates from the French word for "caterpillar". The material is renowned for its soft surface, which is why manufacturers often use it on children's furniture. It is a natural fabric that provides high levels of comfort. On the down side, chenille has rather demanding sanitation requirements. It is best maintained via dry cleaning because washing it can cause irreparable damages, especially if the material is left to hang dry instead of being machine-dried.
Cotton
Cotton is a natural fabric that has incredibly resistant of wear, pilling and fading. Most furniture makers mix it with polyester, nylon or linen in order to improve its strength. The main disadvantage of the material is that it wrinkles, stains and soils easily. It also requires frequent professional sanitation, so if you choose to purchase cotton furnishings make sure to contact End of Tenancy Clean-up and book their affordable upholstery cleaning services in London. Last but not least, the fabric is flammable, which is why you shouldn't place cotton furniture near a fireplace.
Olefin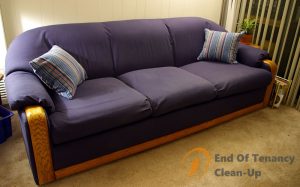 Olefin is perhaps the best and most durable synthetic material that is used in the production of upholstery furnishings. The material can be found in different colours and is very easy to keep clean. Furthermore, its resilience allows it to be treated with bleaches in order to remove stains and spots. Furniture with olefin upholstery are ideal for areas that are subjected to heavy usage such as the living room, waiting room, playroom and etc.
Leather
Furnishings with leather upholstery are the most expensive on the market because the material has a long lifespan and is resilient to wear and tear. There are five sub-types of leather fabric with which furniture is made:
Full-grain leather
Split leather
Top-grain leather
Corrected-grain leather
Faux-leather (synthetic fabric)
Leather furniture can be kept tidy with regular vacuuming while stains can be quickly removed with the aid of a clean cloth that has been damped in a mixture of water and leather conditioner or saddle soap.
Rayon
This artificial material is used as an imitation for silk, cotton and linen. Like most synthetic fabric, it is easy to maintain clean but its major downside is that it tend to wrinkle, which is why furnishings with rayon upholstery are often placed in low-usage rooms and areas.
Linen
Made from flax, linen is perhaps the stronger natural fabric from which furnishings are fabricated. It has a smooth and soft surface, which has resistance to pilling, abrasion and moths. On the backside, linen soils and wrinkles easily, and more importantly tends to shrink when washed.