Not a lot of people can actually say that they enjoy cleaning around their house and if you are one of the many who hates to do cleaning chores in their home, you have probably come to an interesting realisation by this time. Namely, that some housing cleaning tasks are more terrible and annoying than others. That is because they are either too:
Disgusting;
Time-consuming;
Physically demanding;
In some cases, a cleaning chore can be all of the above-listed things. But, unfortunately, you will need to man up because no one will get it done for you. Well, that is unless you decide to rely on professional cleaners. Even if you do not opt for regular visitations, you can benefit a lot from using comprehensive spring cleaning services in London since they offer an all-round and thoroughly-organised cleaning solution and that will make some of your house cleaning chores a bit easier. And if you want to learn how to tackle the worst weekly cleaning tasks, read on because we are about to bombard you with a few amazing tips on that.
Cleaning windows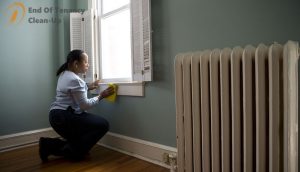 It is best if you clean your windows on a warm and clear day. In that way, they will dry quickly and you will not need to deal with cold temperatures or rain. If you haven't cleaned your window sills and frames in a while, vacuum-clean them. Do not start by washing them with a wet cloth because that will make a huge mess which will be rather hard to clean later. Spray the windows well with a glass cleaner and wipe and dry them with a newspaper to avoid leaving any smears.
Dusting blinds
Once again, start the cleaning process not by wiping the blinds but by vacuuming them. Make sure you use the brush attachment of your vacuum cleaner and set the machine to "low." After that, you can dust the blinds with a microfibre cloth or with a duster. Remember to keep the blinds open when you are cleaning them. If you have plastic blinds, you can unhang them and soak them in water for about an hour.
Cleaning the toilet
An important thing about toilet cleaning which you should remember is that the more regularly you clean your toilet the less time it will take you to do it. For a properly sanitised toilet, you will need a few tools such as rubber gloves, a toothbrush, toilet bowl cleaner, all-purpose cleaner and paper towels. Start by applying the all-purpose cleaner to the entire toilet and leave it for about a minute to do its thing after which you can wash it off. Next, apply toilet bowl cleaner and leave it for another minute. Wash it off with water and if there are still any stains, spray with the all-purpose cleaner again but this time scrub the toilet bowl with a toothbrush. Wash it again and wipe it with paper towels so that it does not dry in stains.
As you can see, with the right strategy and equipment, you can tackle even the most annoying home cleaning chores in no time.