Regardless of the trimester, pregnancy is guaranteed to impose many limitations on you. Even doing simple things like cleaning around the house will become trickier for you. In fact, if you are not careful, cleaning may actually harm you and your unborn child. If you want to continue to clean your home when pregnant, you should remember not to:
Do chores that require a lot of physical effort;
Use heavy equipment;
Move furniture;
Be the one to clean mould;
Use aggressive detergents;
Use nontoxic cleaning products
The first and the most important rule for cleaning when pregnant is to steer clear of all products that are toxic or that contain aggressive chemicals. If chemistry was not your favourite subject at school, simply avoid buying supplies that are described as poisonous, corrosive, inflammable and toxic on their label.
Rely only on cleaning products that are 100% organic and non-toxic. Keep in mind, however, that those usually cost more money. If you can't afford to buy such supplies, use ones that are homemade. You will be surprised how effective water, vinegar and baking soda can be for all kinds small cleaning chores. If, however, you want to thoroughly clean your home before the baby's arrival, use green deep cleaning services in London. By doing so, your entire house will be meticulously sanitised by trained cleaning technicians using health-friendly products and methods.
Keep rooms ventilated when you clean
Your windows should always be open when you are cleaning. Even if you are not using toxic detergents, a room can suddenly fill up with dust particles when you start sweeping the floor, for example. Therefore, the house needs to be naturally ventilated when you are doing that.
Wear gloves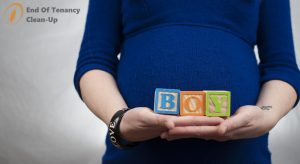 Even if you are cleaning in a well-ventilated room using nontoxic products, you will still need to wear gloves. The skin of pregnant women is quite sensitive to… well, to pretty much everything. So, even if you have decided to use a solution of water and baking soda, the skin on your hands may still get irritated. That may quickly lead to some unpleasant skin condition which may persist even after you give birth.
Do not go anywhere near mould
It is scientifically proven that mould can be very dangerous for pregnant women and the children they are carrying. This means no mould cleaning for you over the next 9 months. That, however, does not mean you can turn a blind eye to your mould problem. Ask your partner to clean it.
Take it easy
The most important cleaning rule for pregnant women is to avoid doing everything alone. Have someone to help you do the heavy cleaning chores, especially during the last trimester of your pregnancy. Do not try to do dangerous stunts such as hanging or unhanging curtains, moving furniture, cleaning windows and etc. Either hire professional cleaners or let your partner, family or friends deal with these chores. Taking unnecessary risks may lead to complications with your pregnancy and you don't want that.