So we all know how big of a deal is having to clean your home or office daily. People resent vacuuming and dusting because it is time consuming and the job in general is not a very pleasant one. We also know that a complete removal can also be a pain and usually is. Moving heavy objects from one place to another is something we do not want to associate ourselves with. Now image needing to do both of the above mentioned things.
End of tenancy cleaning is all about preparing a property for new tenants after everything has been moved out. This doesn't sound like a really exciting thing and this is why we recommend booking a professional company for end of lease sanitation of your home or office. Whatever you decide to do, however, we will still point out some of the toughest objects to clean after.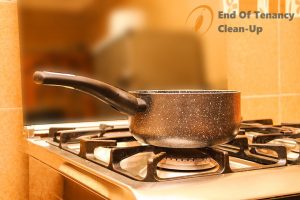 It is all about the interior and furnishing decisions you make while you live at the house/apartment in question. If you opt to buy cheap and light furniture from IKEA then move out cleaning might not be very hard. This is because you will likely do a halfway decent job cleaning regularly. People who rely on old beautiful pieces of furniture, however, have a really hard time when it is time to move. Imagine owning an antique wardrobe which weights half a ton. Now imagine the situation behind it. Yes, once you manage to move it (if you manage to move it) you will see that the wall behind it is probably heavily faded. The same goes for all other sizeable pieces you might have at home – fridges, stoves, beds. Now when it comes to pieces in your bedroom you can pretty much expect to only see fading and dust. As you are performing your end of tenancy cleaning make sure you pay attention to these areas.
The area where you prepare your food might give you a tough time cleaning
When you enter the kitchen, though, you will be unpleasantly surprised by all the grease that has been accumulated behind your stove or fridge. These areas are not only dirty, they are sticky. This is because of absorption and moisture. The kitchen typically has the highest temperature of all rooms at your home. There is steam and all sorts of odours and food mixing up. This is why when you need to deep clean your kitchen during a removal you better be ready for some serious scrubbing.
Hopefully you remember that we mentioned decision making above. It is mainly about the items that you buy which require to be built in. By now you have probably realised that these objects will be very hard to move and clean around once the time for moving out cleaning comes. If you have a bath which has been cemented in your bathroom then you can forget about it. The same goes for desks or cabinets. These pieces are practically dead to you if you are going to move out. This is why nowadays people opt for lighter furniture.